BAMS (Bachelor of Ayurvedic Medicine and Surgery) Full Form, Course, Eligibility Criteria, Duration, Colleges, Admission, Syllabus
Bachelor of Ayurvedic, Medicine, and Surgery (BAMS). BAMS is an Ayurveda traditional healing art-based undergraduate medical program in India. BAMS is a 5.5year-long undergraduate program that revolves around the Ayurvedic treatment of diseases along with modern medicine. The Central Council of Indian Medicine (CCIM) is the responsible body for admission to Ayurveda education at undergraduate and postgraduate levels and the practice of Ayurvedic medicine in India.
The time duration of the BAMS Course is 5.5 years, and the subject is divided into a 4-professionals category. The BAMS Course subjects Padartha Vigyan And Ayurved Itihas, Dravyaguna Vigyan, Maulik Siddhant Avum Ashtang Hridaya, Charak Samhita, Rachana Sharir, Rasashastra Kriya Sharira, Rachana Sharira, Svasthavritta and Yoga, Kaya Chikitsa, Kaumara Bhritya, Prasuti Tantra, Shalya Tantra, Roga Nidana, Vikriti Vijnana, Shalakya Tantra, and also human anatomy, physiology, pathology & diagnostic procedures, principles of medicine, pharmacology, toxicology, forensic medicine, E.N.T, etc. BAMS Colleges are Dr. D Y Patil Navi Mumbai, GGSIPU Delhi, and BVP Pune is the top colleges that are popular for offering this course. BAMS Course fees range from INR 1,50,000 to INR 2,75,000. Students can become BAMS doctors after completing the course. The salary ranges of the BAMS students are between INR 4,00,000 to INR 6,00,000.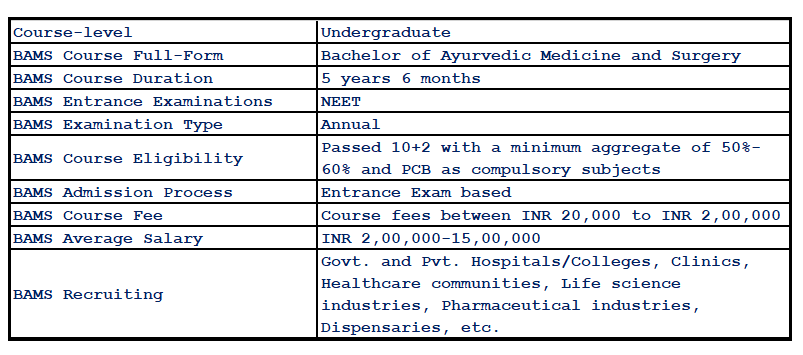 BAMS course provides knowledge on the Ayurvedic treatment of the disease. Vijnana, Shalakya Tantra, etc. It's based on herbs, and their medicines are well known for their contents of natural elements. Ayurveda has gained a lot of prominence in India as it is treated as the alternative method for treating diseases. Ayurvedic medicines are less costly as compared to their western counterparts. Many troubles are abated through ayurvedic treatments.
Students need to study Science subjects Physics, Chemistry, and Biology as subjects of study in classes 11th and 12th. Students need to qualify through NEET to BAMS Course. Students must clear NEET to study Bachelor of Ayurvedic Medicine and Surgery. A Worldwide forum has been provided by World Health Organization (WHO) promoting traditional medicine systems such as Ayurveda. Bachelor of Ayurvedic Medicine and Surgery is one of the most popular courses in medical science apart from the MBBS.
ADVANTAGES OF STUDYING THE BAMS COURSE
The course of BAMS is accepted worldwide. Doctors and Scientists are interested in finding alternative and traditional medicines for curing the diseases and ailments of patients.

Ayurveda is one of the ancient and traditional ways of treatment. Therefore, there are several scopes in this field.

Students have the option of doing a bridge course after BAMS to practice allopathy medicine.

BAMS students are considered equivalent to MBBS graduates.

Various health centers have been various state governments for the practice of Ayurveda.

MD and MS after BAMS are available for a better understanding of the subjects.
Candidates who could not make it to the MBBS program due to the hefty fee can opt for the BAMS program. Candidates can opt for postgraduate programs in Ayurveda medicine after the successful full-filament of the BAMS program. One can become a surgeon, gynaecologist (Ayurveda), pharmacist, teacher, and numerous other roles offered in the healthcare industry.
BAMS ELIGIBILITY CRITERIA
It is mandatory for aspirants to full fill certain eligibility conditions to get admission to the BAMS course. Some basic BAMS eligibility criteria are mentioned below.

Candidates are required to pass Class 12 or equivalent examination with science subjects (Physics, Chemistry, and Biology) and English core in both Class 11 and 12 from a recognized board.

He/she should have completed the age of 17 years at the time of admission.

An aspirant from the general category needs to secure an aggregate of 50% in their Class 12 Board examination. While, for SC/ST/OBC candidates, the qualifying percentage is 40%

Candidates need to have qualified NEET by securing a minimum qualifying cut-off percentile to get admission in BAMS course, which can be checked in the table below.

For foreign students, any other equivalent qualification approved by the University will be allowed.
There are no specializations offered in the BAMS program. Candidates are required to opt for specializations in postgraduate programs in Ayurveda Medicine and Surgery. These programs include M.S. (Master of Surgery) (Ayurveda) and M.D. (Doctor of Medicine) (Ayurveda).
THE SPECIALIZATIONS IN THIS FIELD ARE MENTIONED BELOW:
BAMS COURSE SUBJECTS ARE DIVIDED INTO A 4-PROFESSIONALS CATEGORY: -
BAMS stands for Bachelor of Ayurvedic Medicine and Surgery. It is an undergraduate program designed for aspiring candidates who want to enrich their knowledge in Ayurveda Medicine and Surgery to treat various diseases and disorders. It is a program that focuses on the Ayurveda medical practice or ancient healing methods used by Vaidya (Ayurveda physician). The duration of the BAMS course is 5.5 years including a mandatory internship of 12 months. There are other similar courses as well. We have mentioned below such courses.
.

National Eligibility Cum Entrance Test (NEET) is the basis for the selection of students for the Bachelor of Ayurvedic Medicine and Surgery.
In India, NEET is compulsory for admission into many medical courses including Bachelor of Ayurvedic Medicine and Surgery.
The centralized counselling is held after the NEET exam for the admission of the NEET qualified students in the various courses of medical science according to their performance in the Entrance exam i.e. NEET.
Interviews are also done by various colleges for giving admission to the students in Bachelor of Ayurvedic Medicine and Surgery.
Admission to the Bachelor of Ayurvedic Medicine and Surgery course is done mainly through the entrance examinations.
NEET-UG is the exam which the aspirants of BAMS have to qualify for getting admission in Bachelor of Ayurvedic Medicine and Surgery.
The application fees for appearing in the NEET exam for the general category are INR 1,500 and INR 800 for the SC/ST categories.
CAREER OPPORTUNITIES AFTER BAMS
In the past, there were majorly two options available for freshly graduated Ayurveda doctors – higher studies or personal practice by opening a clinic. However, these days there are a plethora of job opportunities available for BAMS graduates in both public and private sectors. Some of the industries in which students can look forward to making a career after clearing BAMS are:
Take a look at different job opportunities available for BAMS graduates below:
PHYSICIAN: Before students start their clinical practice, it is always advised to work under some senior practitioners to gain relevant experience. Along with regular exercise under a practitioner, students can opt for specialized practice (such as treatment for spinal disorders, skin diseases, etc.) after gaining complete knowledge.
TEACHER: If a student wishes to build their career in teaching, it becomes necessary to complete post-graduation. For post-graduation, students can choose to pursue either MD or postgraduate diplomas in any subject of their choice. Once students have their post-graduation degree, they can join any government or private college as a lecturer.
MANAGER: Students who wish to enter into management can pursue courses such as Masters in Public Health (MPH), Masters in Health Administration (MHA), and MBA in Hospital and Healthcare Management. Such courses are in great demand and offer promising employment opportunities for students.
CLINICAL RESEARCH ASSOCIATE: These days, many universities have different postgraduate courses in clinical research. Students can pursue such courses to secure a job as a Clinical Research Associate in the research units of other pharmaceutical companies.
DRUG MANUFACTURER: Manufacturing of Ayurveda medicines and related products such as cosmetics is a booming business these days. To make a career in the field, students can choose to pursue courses such as MSc in Pharmaceutical Medicine and Diploma in Herbal Medicinal Manufacturing after completing the BAMS course.
HEALTH SUPERVISOR/ THERAPIST: Many international tourists look towards taking natural Ayurveda treatments in health resorts and spa centers across India. Tourists usually prefer natural therapies for arthritis, obesity, migraine, premature aging, skin diseases, high cholesterol, and diabetes. BAMS students can opt to work as supervisors in such health centers of various hotels and resorts. Students can also open their health centers.
MEDICAL SUPERVISOR: This option includes working as a medical supervisor in companies that prepare Ayurveda medicines.
When it comes to hiring, government and private hospitals are the major recruiters for BAMS graduates. However, top recruiters that offer jobs to Ayurveda practitioners other than hospitals are mentioned below:
BAMS GOVERNMENT AND PRIVATE UNIVERSITY STATE LIST